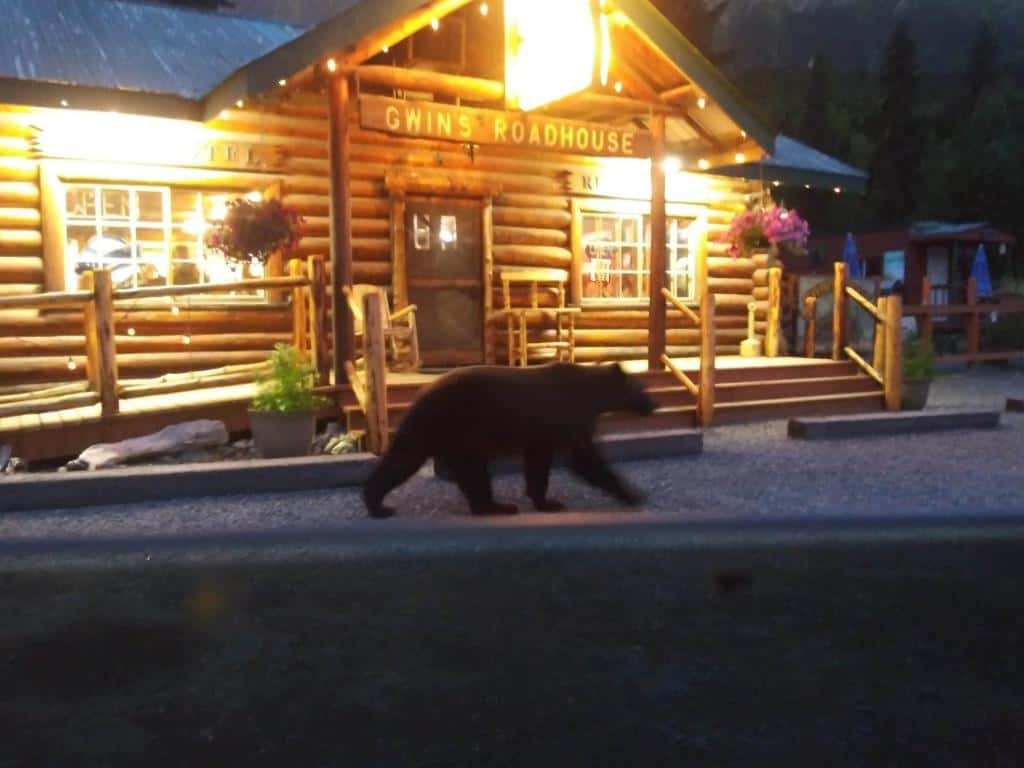 Bear Crossing in front of gwin's lodge
Discover the Rich History and Natural Beauty of Gwin's Lodge in Cooper Landing
Nestled in the heart of Cooper Landing, Alaska, Gwin's Lodge is a historic fishing lodge that has been welcoming visitors to Cooper Landing Alaska, since 1952. The lodge is situated on the banks of the Kenai River, surrounded by stunning mountain ranges, glaciers, and pristine wilderness. Here's a look at the rich history and natural beauty of Gwin's Lodge.
History
Gwin's Lodge was founded in 1952 by Pat and Helen Gwin, who were avid fishermen and outdoor enthusiasts. The couple built their life in Cooper Landing, Alaska, and the lodge by hand using local spruce logs, and it quickly became a popular destination for anglers and hunters from all over the world. Over the years, the lodge has expanded to include a restaurant, cabins, and RV park, while still retaining its rustic charm and historic character.
Natural Beauty
One of the main attractions of Gwin's Lodge is its natural beauty. The lodge is located on the banks of the Kenai River, which is known for its world-class fishing for salmon and trout. Guests can cast their lines in the river, take a scenic float trip, or enjoy a guided fishing excursion. The area is also home to a variety of wildlife, including bears, moose, eagles, and more.
In addition to fishing, guests can explore the surrounding wilderness on hiking and biking trails, or take a scenic drive to nearby attractions like the Russian River Falls or the Kenai Fjords National Park. The lodge is also close to local cultural attractions, such as the Russian Orthodox Church and the Alaska Native Heritage Center.
Accommodations and Dining
Gwin's Lodge offers a variety of accommodations to suit different needs and budgets. Guests can choose from cozy cabins, RV sites, or tent camping. Each cabin is equipped with comfortable beds, private bathrooms, and rustic decor that reflects the lodge's heritage. With scenic views of the river.
The lodge's restaurant, which is open for breakfast, lunch, and dinner, serves up delicious Alaskan cuisine made with fresh, locally-sourced ingredients. The menu features classic dishes like salmon chowder, grilled salmon, and hand crafted burgers. Guests can also enjoy a drink at the lodge's bar, which offers a variety of beers, wines, and spirits.
In conclusion, Gwin's Lodge is a historic fishing lodge in Cooper Landing that offers guests a chance to experience the rich history and natural beauty of Alaska. Whether you're an avid angler, outdoor enthusiast, or simply looking for a peaceful retreat, Gwin's Lodge has something to offer. From cozy cabins and scenic RV sites to world-class fishing and delicious cuisine, this lodge has it all.